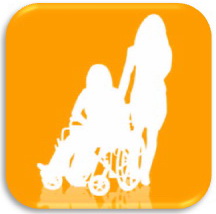 As indicated by point 2 the seventh paragraph of the Order of 14 April 2011, establishing the procedure for recognition of professional competence is established, the provisional list of ratings (of CPIFP Links) obtained by candidates who meet the participation requirements published, and PROVISIONAL LIST EXCLUDED, sorted alphabetically, in Procedure for Assessment and Accreditation of Professional Skills in the SSC call 2017-03 HEALTHCARE INSTITUTIONS TO DEPENDENTS IN and geriatric care PEOPLE AT HOME, according Resolution 21 March 2017 (GOOD 5/04/2017). Download lisTado of candidates CPIFP Links here.
REQUIREMENTS:

Persons wishing to participate in the process of evaluation and accreditation of skills must comply, the date of registration in the procedure, the requirements of Real Decreto 1224/2009, of 17 July as indicated in the fifth paragraph of the decision date 21 March of 2017.
Places offered: The calls will be developed in two phases.


In this second phase the following qualification places were held by:
| | |
| --- | --- |
| | PLAZAS |
| SSC320_2 social care for dependent persons in institutions | 50 |
| SSC089_2: social care to people at home | 100 |
SAN LORENZO CPIFP C / Madrid, No. 2, CP 22004 Huesca. Phone: 974 24 36 33. Fax: 974 23 06 56.

CPIFP LOS ENLACES Calle Jarque de Moncayo 10 – 50012 – Zaragoza – Phone: 976 30 08 04 Fax:976 31 44 03
CPIFP BAJO ARAGON C/.José Pardo Sastrón Nº 1, CP: 44600 Alcaniz (Teruel) .Tfno: 978 83 10 63. Fax: 978 83 09 88.
CPIFP SAN BLAS Crtr. San Blas s/n CP 44195 San Blas Teruel. Phone: 978 61 88 20. Fax:978 61 88 21
COMPLAINTS AND DEADLINES: Against these lists may submit written complaints to the corresponding management center

, addressed to the chairman of the selection committee, directly or fax

,

on 11, 12 and 13 December of 2017. You can download the formulariode reclamiaciones here.
On 18 December the final list of accepted Phase II in the procedure and instructions for enrollment in the phase of advice and payment of fees will be given.
(1 *) IN PROVISIONAL LIST OF SCORES CONTAINED ALL CANDIDATES WHO IS ELIGIBLE TO PARTICIPATE IN THE CALL AND ESTABLISHED THE PROVISIONAL LIST OF EXCLUDED INDICATING THE OCCASION OF EXCLUSION. BOTH ARE MADE LISTS ENTERED COMPETITION UNITS THAT EACH CANDIDATE IN YOUR REGISTRATION HAS CONSIGNED.

http://www.cpilosenlaces.com/wp-content/uploads/2014/11/logo_cpifp-300x116.png
0
0
Dolores Modrego
http://www.cpilosenlaces.com/wp-content/uploads/2014/11/logo_cpifp-300x116.png
Dolores Modrego
2017-12-05 20:53:54
2017-12-05 20:53:54
PEAC/SSC 2017-03: PROVISIONAL LIST OF SCORES (CPIFP LINKS) obtained by candidates who meet the participation requirements and PROVISIONAL LIST OF EXCLUDED , in the PEAC of professional qualifications HEALTHCARE INSTITUTIONS IN A DEPENDENT, HEALTHCARE FOR PEOPLE AT HOME. Fase II.